Published:
June 18th 2013
In the morning we bid farewells to our excellent hosts at the Herdade da Poupa hotel and were driven to the hilltop town of Monsanto. We explored the remains of the fort walls and admired the sweeping views of the valleys below.
The winding cobblestone streets led us to our lunch spot and to a patio with commanding views of the valley. We were served partridge, pasta, squid salad and a local potato-and-sausage-based dish. Washed down with wine…of course. Once we'd finished yet another delicious meal, we met our mountain biking guide, Pedro. He got us kitted up with helmets and a bike each, and we began with a rather steep and technical section through a narrow alley into the plains below.
It was the first time I've ever seen an electric bike. Pedro had bought two and, sceptical as I was, decided to give it a go. Wow! I know electric bikes have come on in recent years, but this was phenomenal. One of the group members who hadn't ridden a bike for many years had virtually placed an order by the time we left Portugal. It's a fantastic way of getting people who would enjoy cycling but are worried about the fitness side of things.
After a thrilling ride through glorious scenery, we were picked up and transferred up the winding mountain roads to our final hotel of the trip, the magnificent Casa das Penhas Douradas. (http://www.casadaspenhasdouradas.pt/). This place really needs to be seen to be believed. Perched high atop a mighty mountain ridge, this stylish and modern complex really has it all. The rooms were adorned with elegantly shaped wooden features, effortlessly merging function with styles from numerous eras.
Our host, the affable and friendly, João Tomás, entertained us with brilliant food, tales of his business ventures and local points of interest.
The following morning we feasted on a gargantuan spread of hot and cold breakfast delights. The views over the valleys below were spectacular (and difficult to leave).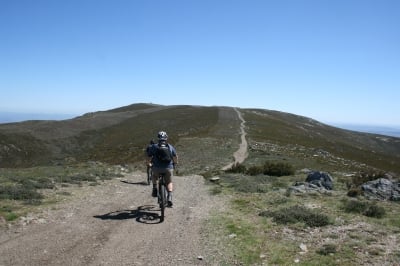 Pedro met us with our bikes and the second part of our mountain bike exploration began through the glorious Serra D'Estrela mountain range. Our route literally began out of the front door of the hotel, soon we were whizzing along dreamy dirt tracks with incredible 360? vistas of the surrounding countryside below.
What struck me was the lack of other people. In the UK, an area with such beauty and access would be flooded with people. During the three hours we cycled, we came across only one party of Portuguese bikers (who, incidentally, had brought a 2WD city car to these rugged and dizzying heights – not recommended). The weather was perfect – clear blue skies and very little wind.
When asked about Portugal, most people think of the Algarve, of sandy beaches lined with high-risers, and these undoubtedly have their appeal for your sunbathing holidays. What I found however, were fabulous unspoilt vistas, impressive mountains, friendly people, picturesque prehistoric villages and incredible food. Scenes of horse-drawn carts were punctuated with high-class dining, ancient landscapes interposed with chic hotels and first-class service. There's no doubt that Central Portugal has a great deal to offer and I feel privileged to have experienced it for all it is – beautiful, welcoming, delicious, adventurous and classy (just get there quick – it's going to be big!).