Published:
March 2nd 2018
Cycling in the snow can be extremely hazardous and with the recent effects of the BeastfromtheEast being felt all over the country, you may be surprised to learn that there have been some hardy cyclists braving the cold on two wheels.
One that definitely deserves a mention however is from the St Pancras London Ambulance Cycle Response unit (https://twitter.com/las_cycleteam).
Kat on our #StPancrasCRU team has been taking on the #BeastFromTheEast head-on to get to patients through the #snow, & is ready for #StormEmma!

Here she is caught on video, making good progress, with no complaints, & a smile on her face! #NHSHero

Thank you Kat!💪👏🚲🌨❄️☃️ pic.twitter.com/oNv1s5ChBI

— LAS Cycle Team (@LAS_CycleTeam) March 1, 2018
In this video, Kat battles through the snow on the way to visit a patient on her custom fully-loaded Specialized Rockhopper. In another London street, Nikki tackles the snow having visited three patients on her bike.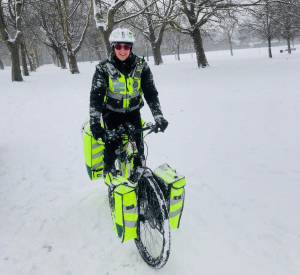 Since being founded in 2000 by Tom Lynch (a former BMX champion), the team of over one hundred responders have pedalled their way through the busy streets of London to tens of thousands of patients. Each responder cycles over 25 miles a day on average and are able to access emergency callers in far less time in the congested city centre.
It is estimated that the service saves 5000 ambulance hours annually, with thousands of pounds saved in fuel costs too. With so many cars being told to stay in garages due to bad weather, it's nothing short of brilliant that lives can still be saved on the humble bicycle!
Have you been cycling out in the snow? Please comment below with your experiences and photos.