Published:
February 25th 2021
Choosing a route to cycle from London to Paris can be a daunting prospect, particularly when there are the added logistical elements of how you're going to cross the channel, cycling in a new country with different road rules and finding suitable accommodation along the way. Many people begin with a Google search or checking out Strava. This can be a risky business though because the route you find may be completely unsuitable and sometimes, untested.
Having organised countless London to Paris bike rides over the years, we've explored many different routes and definitely have our favourites. If you're organising your own ride however, here's an overview of some of the routes you could consider. Bear in mind that the mileage on each day are estimates depending on where you're planning on sleeping and where the start and end point are located.
1. 226 miles, 3 days riding via Portsmouth. Going via Portsmouth on the overnight ferry to Le Havre looks like this:
Day 1: London to Portsmouth (83 miles)
Day 2: Le Havre to Vernon (89 miles)
Day 3: Vernon to Paris (54+ miles)
This is a pleasant route and riders tend to love the overnight ferry aspect of the journey. The mileages are however a little on the longer side per day.

2. 200 miles, 2-3 days riding via Newhaven. It is also possible to ride to Newhaven, get an overnight ferry to Dieppe then ride from here to Paris. This is the route that many attempting to complete the ride in 24 hours take. The itinerary looks like this:
Day 1: London to Newhaven (80 miles); board a ferry to Dieppe
Day 2: Dieppe to Paris (120+ miles)
As mentioned, the ferry from Newhaven leaves at 11pm and arrives into Dieppe at 4am which means very little sleep for the riders and, at that time of year, a fair amount of cycling in the dark. It is of course possible to split the second day into two more manageable chunks, stopping at Beauvais en route (next route).

3. 220 miles, 3 days riding via Newhaven
Day 1: London to Newhaven (80 miles); board a ferry to Dieppe
Day 2: Dieppe to Beauvais (75 miles)
Day 3: Beauvais to Paris (65 miles)

This is a pleasant route though it will mean lack of sleep on the first night due to the ferry timings from Newhaven to Dieppe.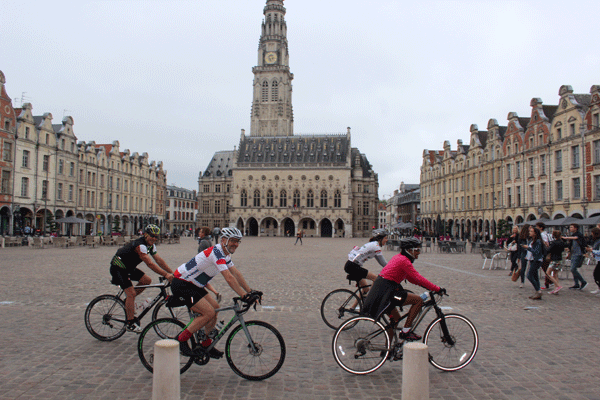 4. 275 miles, 4 days riding via Calais
Our most popular London to Paris route is via Calais is four days riding an average of 75 miles a day.
It is possible to reduce to three days by combining the riding days in France to two riding days of 105 miles, but in our opinion it's better to take it slower and enjoy the wonderful French countryside:
Day 1: Join tour in London, cycle to Calais (77 + 4 miles)
Day 2: Calais to Arras (74 miles)
Day 3: Arras to Compiègne (76 miles)
Day 4: Compiègne to Paris (58 miles)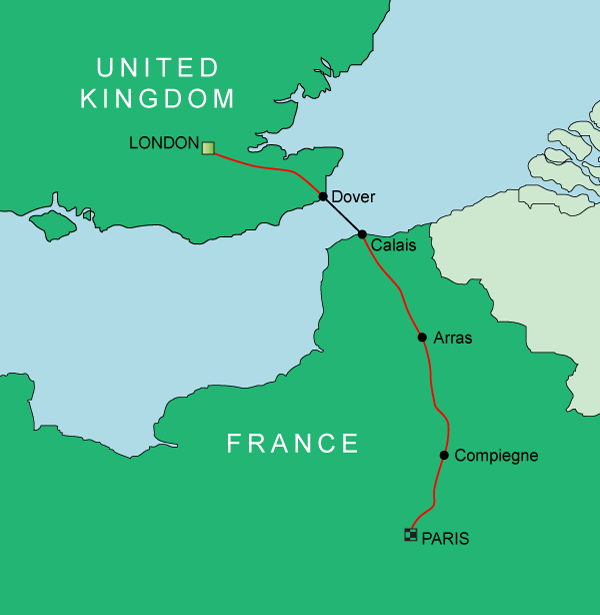 We've been running London to Paris bike rides since 2010 and can provide as comprehensive as you like packages. Here's what we'd include in one of our standard packages:

Our standard London to Paris inclusions
Our aim on all trips is to provide an all-inclusive, turn-up-and-ride experience, where we take care of everything to allow participants to simply concentrate on cycling. Here's what we'd include on a normal standard itinerary:
Cycle Leader/s
Support Driver/Bike Mechanic
First aid cover
All hotel accommodation
All breakfasts
Buffet-style lunches
Ferry crossings
Return transport from Paris to London via Eurostar
All luggage transported during your trip
Return of bicycle and luggage from Paris to London at the end of the trip
If you'd like to know more about our supported and guided London to Paris bike rides, please visit https://www.moreadventure.co.uk/event/london-to-paris-bike-ride/ or get in touch here.