Published:
October 16th 2015
Cycle California Day 10: Ventura to Santa Monica
The team could not believe this would be our final day's cycle! The last seven days on the bike had flown by and it seemed like a lifetime we were sightseeing around San Francisco. We decided upon a leisurely breakfast with a relatively late start as the mileage was low for our ride from Ventura to Santa Monica. Bill and Tom fixed some punctures and tweaked some gears, Danny loaded bags onto the van and the team got rolling.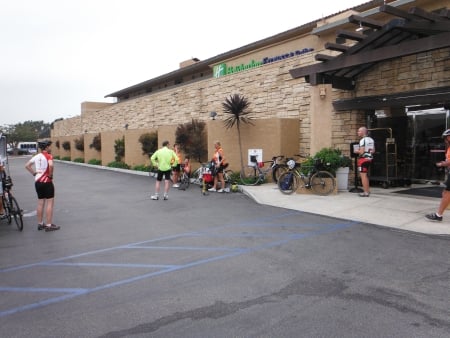 The roads out of Ventura were completely flat. We cycled past fields of red peppers, artichokes, coriander and turf in the muggy morning air towards Port Hueneme. The cyclists were now riding like a tightly knit team, all in an effective line as we whizzed through the first fifteen miles. Our first stop was a rather bizarre missile theme park just outside Point Mugu Naval Base.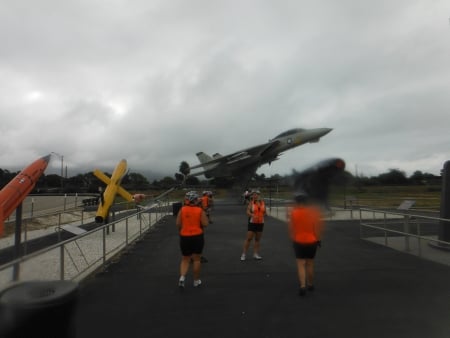 Here visitors can marvel at the macabre array of nasty spiky metal objects, some of which were rotting in the sea air. "There's just no way you'd find something like this is the UK" commented Stan as we gawped at these icons of mass destruction. Sue and Katie couldn't resist a glamour shot in front of one of the biggest missiles.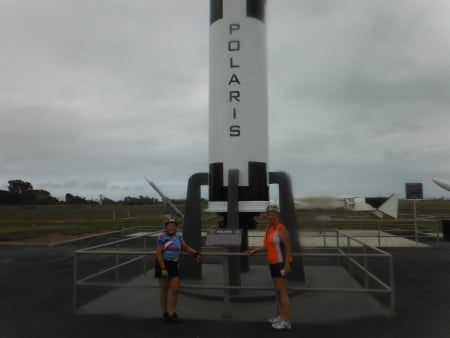 We then joined the Cabrillo Highway through Point Mugu State Park which has five miles of beautiful ocean shoreline, countless rocky bluffs, two major river canyons and sandy beaches. The views were stupendous as we snaked our way around this rugged and impressive coastal road.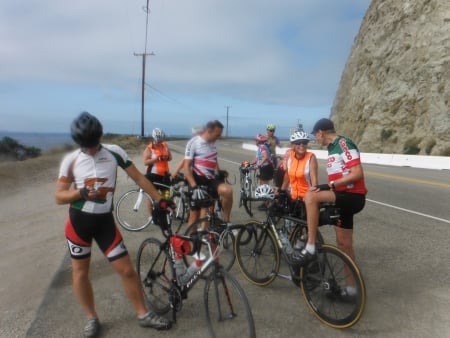 As we entered the outskirts of Malibu we were treated to some fantastic views of sandy beaches and excellent surf. We stopped for coffee at Neptune's Net, a famous seafood restaurant on the Pacific Coast Highway.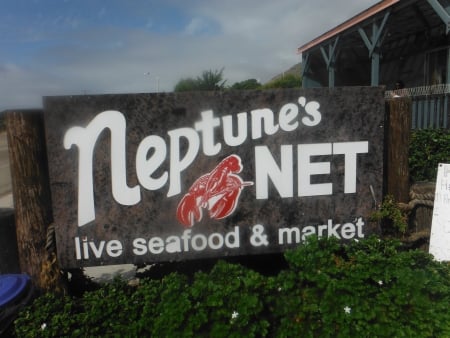 The restaurant was used in Point Break, a 1991 movie about surfing starring Keanu Reeves and Patrick Swayze. A quick look at the beach and waves opposite this captivating eatery confirmed why this was such a great location for the film, and also the place that Keanu Reeves learnt to surf (a fact from Katie).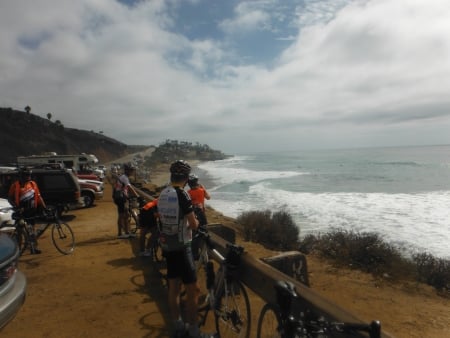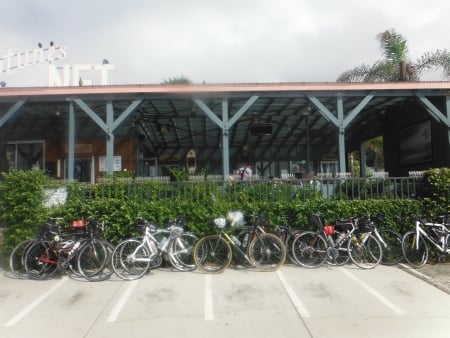 We headed back out onto the main road before turning off right onto a residential street immediately adjacent to the sea. These must be some of the most exclusive homes in Malibu, with ocean views as standard. It was also a nice break from the main road which was now becoming more busy as we approached the built-up outskirts of Los Angeles.
We turned off right towards our lunch spot at the marvelous Paradise Café, a beachside restaurant that we knew would be difficult to leave. Palm trees and sun loungers lined this pristine white sandy beach, with the restaurant patio nestled just metres from the sea.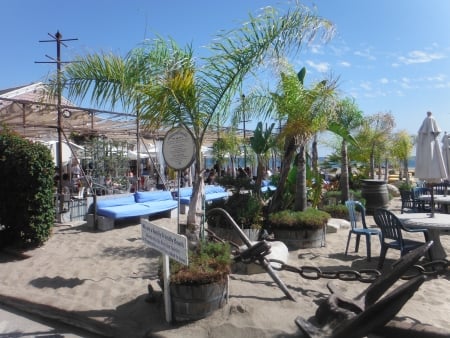 The group sat in the shady outside area with sand in their toes and ordered a well-earned lunch.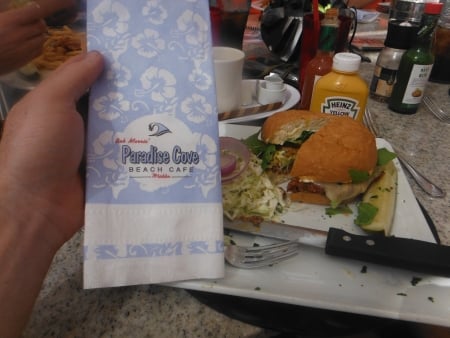 As per usual, the portions were enormous but the team were becoming accustomed to this with Anne and Adrianne sharing a cheese sandwich and Lesley and Sarah sharing a fish dish. Helen opted for a Bloody Mary Gazpacho, complete with shrimps and a plateful of nachos. It was quite the sight and of considerable height, so much so that Helen asked the waiter for a cushion to sit on as she was not high enough to eat it!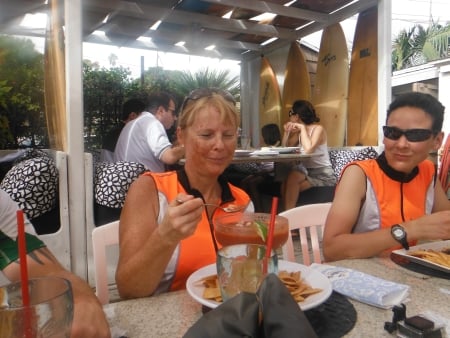 As predicted, this place was difficult to leave but with only 17 miles to go, we packed up and hit the road for the final time.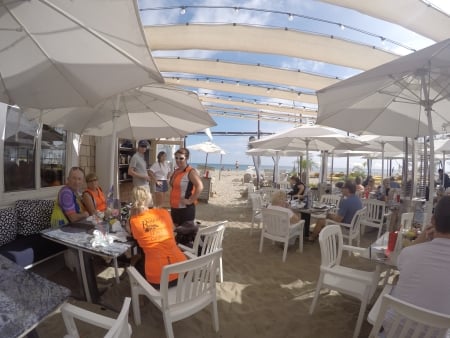 A busy stretch followed lunch, with some tight sections to overcome. This was not helped by the fact it was bin day so the street side was peppered with wheelie bins, making the next ten miles seem a little like a computer game, dodging the black obstacles whilst negotiating the countless vehicles at traffic lights and stop signs.
We soon turned off the highway however onto what must be one of the finest cycle lanes in California. This sandy stretch of tarmac weaves its way through volleyball nets, palm trees and beachside cafes towards Santa Monica. In the distance the team caught a glimpse of the finish, the infamous Santa Monica pier.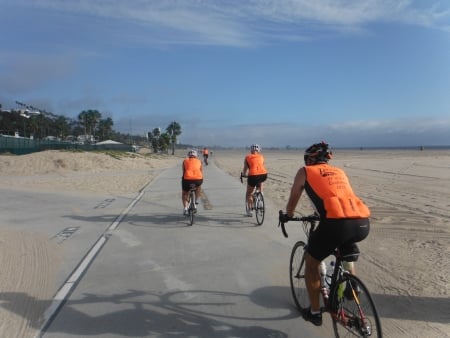 As we approached the pier, it was clear there were mixed emotions throughout the group. We'd been cycling together as a team for eight days and had now become a team, each member having formed strong bonds through miles of pedaling. We'd laughed, cried and shared moments and sights that are impossible to describe. In a couple of days we would be flying back to the UK having cycled 500 miles south along the Pacific Coast from San Francisco to Santa Monica.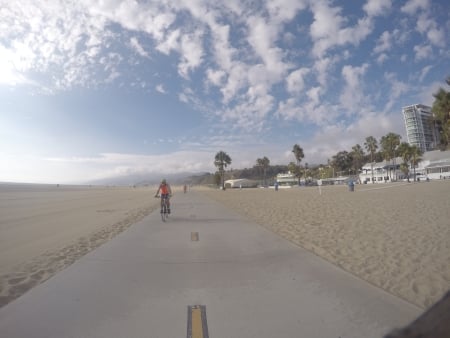 We all slowed down during the final mile to take the moment in. This was the end of our journey, the final few pedal strokes, hand gestures and turns. Each day had brought about its own challenge through hills, the heat, exhaustion and mental fatigue.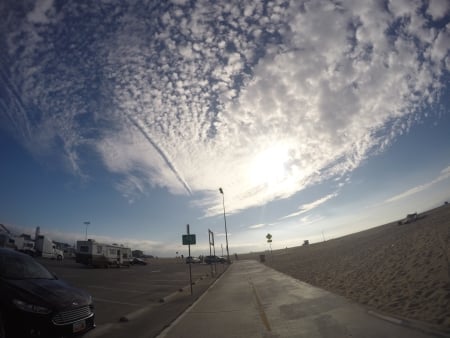 For the team from Rowans Hospice, this was the culmination of over a year's planning, fundraising and planning. A few of the team had only been cycling for a short period but had shown incredible determination and resolve throughout.
The team stood on the pier next to the funfair as tourists bustled by, unaware of the huge effort and achievement of this brilliant team.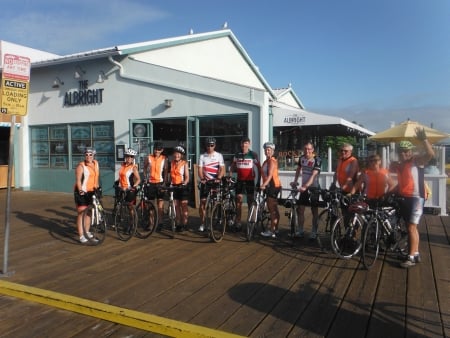 If you'd like to donate to the Rowans Hospice team for completing this amazing challenge you can still do so HERE.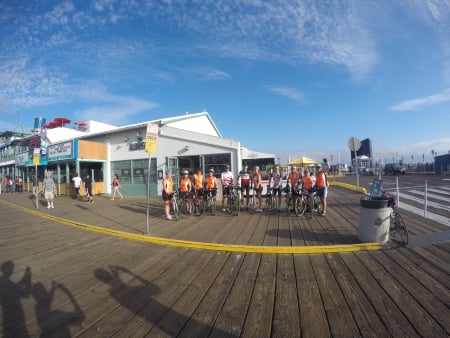 Back at the motel a special thanks was given to Lesley who had been an absolute superstar with the van (now named Ava) and, despite facing considerable challenges, had been an integral part of the team – thanks again Lesley!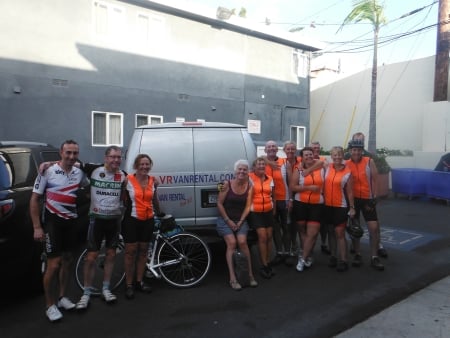 The team finished the day with a lovely meal near the pier. Bill generously arranged for a glass of fizzy to celebrate as we celebrated in style and reminisced on the journey we'd all made through California.
If you're interested in taking part in Cycle California 2016 with More Adventure, please visit our website here for more information.