Published:
October 11th 2015
It was an early start on Day 6 of the Cycle California trip, the group descended upon Denny's across the road from the motel for some hearty portions and free coffee refills.
Ben from Adventures By The Sea met us with his inconspicuous minibus and we loaded the bikes and luggage on the two vehicles. We were then dropped at our finishing point from the previous day to begin our second day's ride on the Big Sur.
The ride began cool as the sun began to rise ahead.
Around every corner a new view appeared, each one trumping the previous view. It was genuinely difficult to pedal, not just because of the hills, because every few hundred metres afforded us another jaw-dropping view!
This was always going to be one of the hardest days' ride, and by around 30 miles, the real hills began. Although not steep, the gradual gradient in the hot sun was a real challenge. The whole group pushed on however despite this and all made it to the top of the second and final Ragged Point climb. A huge achievement!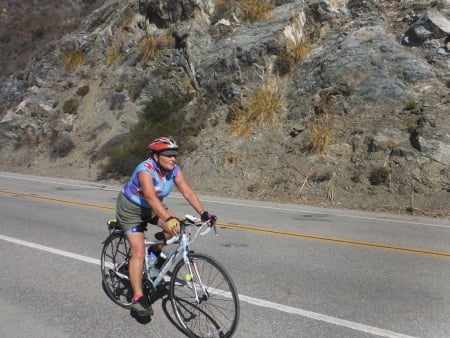 The descent down the other side was our reward and the team whizzed down the hairpins like seasoned pros! There were a couple of idiot drivers on the road that hampered us at times (Tom ensured a guy in a convertible knew of his feelings at this stage), but it was utterly exhilarating.
A few of the team saw dolphins…unfortunately they didn't come out in any photo as they were too far away…but we promise, they were there!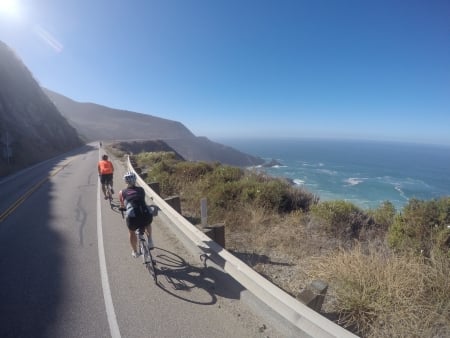 We stopped for lunch at Ragged Point Inn where a very competent blues trio accompanied our dining experience.
After lunch the scenery changed once again and wide open roads with the surf crashing to our right made for a relatively flat and unproblematic finish. The team stopped briefly to check out the sea lions basking on the beach before rolling into San Simeon, our overnight stop.