Published:
October 13th 2015
Cycle California Blog Day 8: Pismo Beach to Solvang
The group ate breakfast on the motel balcony as the sun began to hot up. Below us several groups of early-morning cyclists whizzed by, some on recumbent cycles that were hand-powered, all kitted out in team tops and shorts. After our morning briefing, the team hit the road.
We were only a few miles in when disaster struck. A dog caught a glimpse of Sue's bike as she approached and darted out into the road. It collided with the front wheel and over Sue went, landing on her elbow and bending her gear lever. Anne and Adrianne watched the whole incident happen, almost in slow motion. Danny patched her up whilst Tom fixed the bike. Sue was shaken but gave the impression she didn't know what all the fuss was about and was keen to get moving again! Unfortunately Sue wasn't the only casualty as the friendly shop owner attended to the poor dog which now had a limp.
When we caught up with the group Katie remarked that "the dog was probably after the bits of pizza you've got in your rear pannier Sue". The team were in excellent spirits!
The road wound up from the valley floor and over a small hill. A man pulled in as we caught our breath, "You betta be carefowl at here, this is a dangerous road…full 'o' old coots lack me".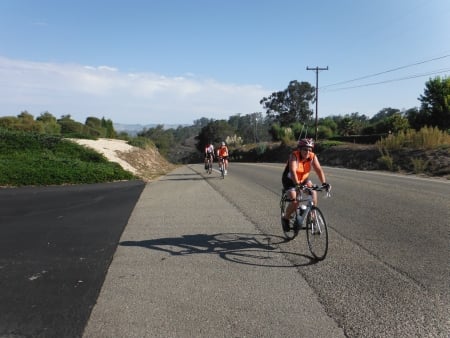 We cycled along farm roads, the odd 4×4 gas-guzzler whizzing by and disturbing the relative peace. Our first stop was the town of Guadelupe, a dusty one-horse place complete with several Mexican restaurants, several Mexican supermarkets, a garage and a post office. It isn't exactly what could be deemed an up-and-coming tourist destination. We refilled up on water then got moving again.
It really began to heat up. Several locals told us they were currently having a heat wave but not just any heat-wave, a four-year heat wave…and could we feel it! We stopped at the town of Orcutt for a snack and to buy our lunch for later.
The climb of the day began at around 36 miles and was slow and steady. The heat was stifling as we climbed but when we reached the top, the descent made it all worth it.
We were soon whizzing down to our lunch spot at the delightful oasis of La Purisma Mission State Park where the team sought much-needed shade and rest on picnic benches under the trees.
It was sweltering! The team plodded on in the heat, stopping only for the odd bit of shade and the occasional puncture (Bill was all-too-happy to assist with these!).
Helen also found time for some yoga.
We were soon approaching our overnight stop of Solvang. This Disney-like town was founded in 1911 by a group of Danish settlers and is complete with fairy-lit trees, windmills, Belgian waffle shops and endless charm. It was certainly a sight for sore eyes (and legs, bums etc…) for the team.
That evening we had a lovely dinner in the Solvang Brewing Company. The team were finally getting used to the portion size but had still earned all the calories they wanted…what a mammoth day and a huge achievement.