Published:
December 13th 2016
Cycling in Vietnam and Cambodia conjures up different images for different people. When Tom decided to book a flight out there with only his bike and luggage as company, he had mixed feelings. However, after landing in Ho Chi Min City, he proceeded to cycle 600 miles, crossing the Mekong Delta along some questionable roads through the land of a million smiles, and lived to tell the tale. Below are a few photos and some questions answered about his latest adventure.
Where did you actually cycle from and to?
My route began in Ho Chi Min City and went west, crossing the Mekong Delta to the coastal town of Ha Tien.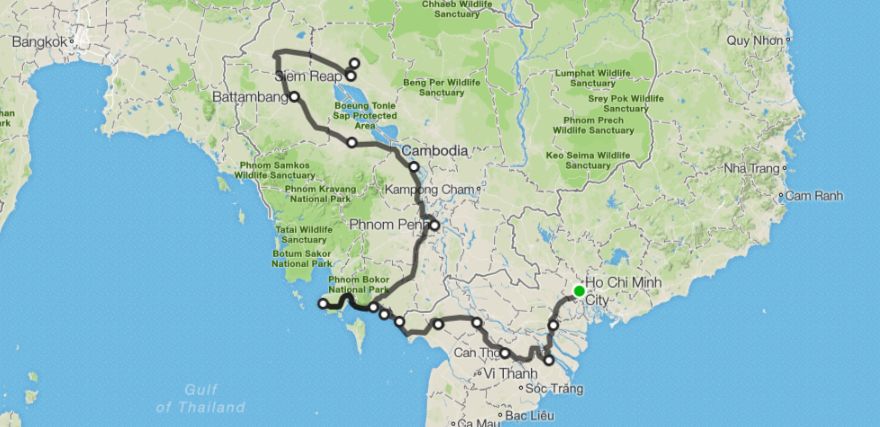 Here I headed north, crossed the Cambodian border, then on to Sihanoukville on the coast. From here I travelled to Phnom Penh before continuing north then east to the temples at Angkor Wat.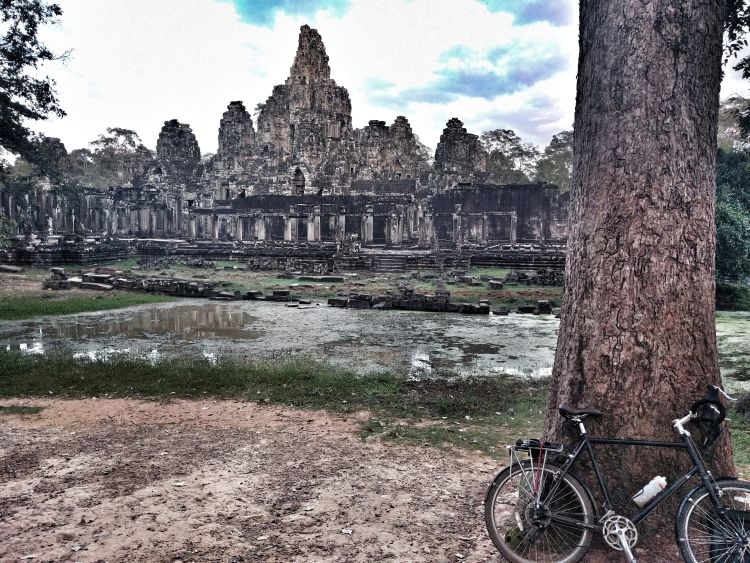 My goal was to reach the temples at Angkor Wat and they certainly didn't disappoint.
What are the roads like in Vietnam & Cambodia?
Varied and unpredictable. I wanted to stay off the main roads as much as possible, but at times this was extremely difficult. Many of the main roads in both countries are tarmacked, but frequently this would change with no warning. I was particularly surprised at the poor quality of roads leaving Phnom Penh, the capital of Cambodia. The main road out of town west (effectively our equivalent of the M4) was really terrible, with plenty of potholes and other hazards. It had been raining particularly hard when I passed through too, which made riding quite problematic.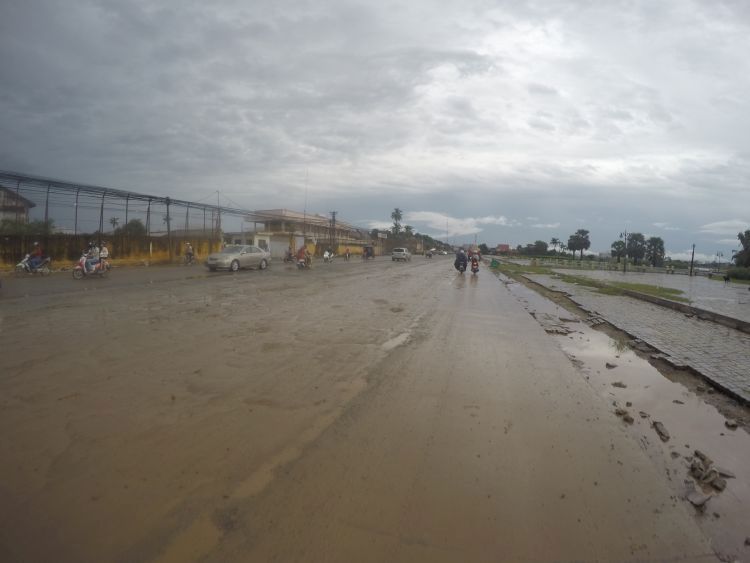 In Vietnam, it was easier to get off the main road and follow the canals and paddy fields. These are the sort of roads I feel are essential to experience.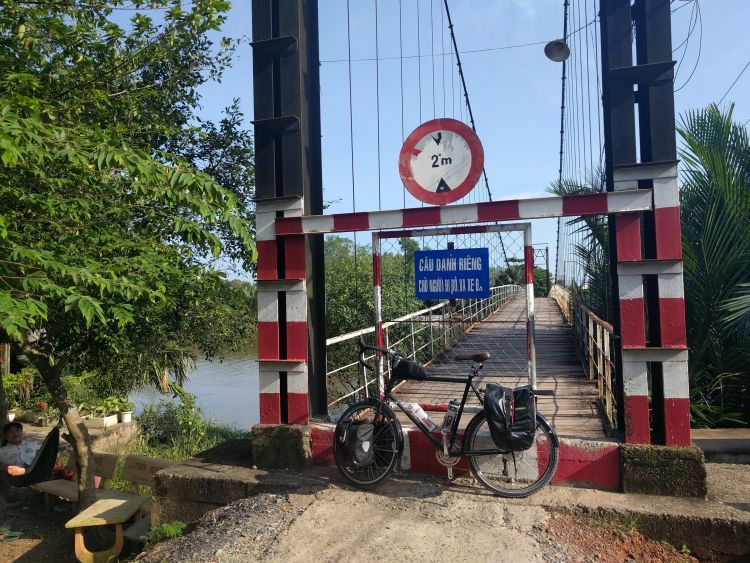 Apart from far less traffic, they tend to be cleaner, more exciting, and travel through rural parts not seen by many tourists.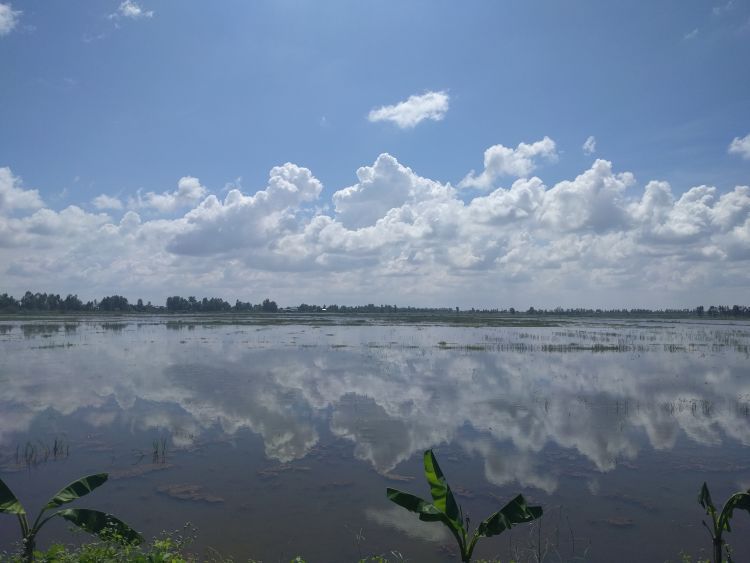 What type of bike did you take?
I was glad I took my touring-specific bike (
Surly Long Haul Trucker
) as it coped easily with the rigours of the main road, but also gave me the flexibility to explore the backroads without worrying about the conditions. That said, I had a pannier bolt shear off, another work itself loose, and a few other minor mechanicals to deal with. It's an adventure after all! The fix for the sheared bolt –
a cable tie of course
!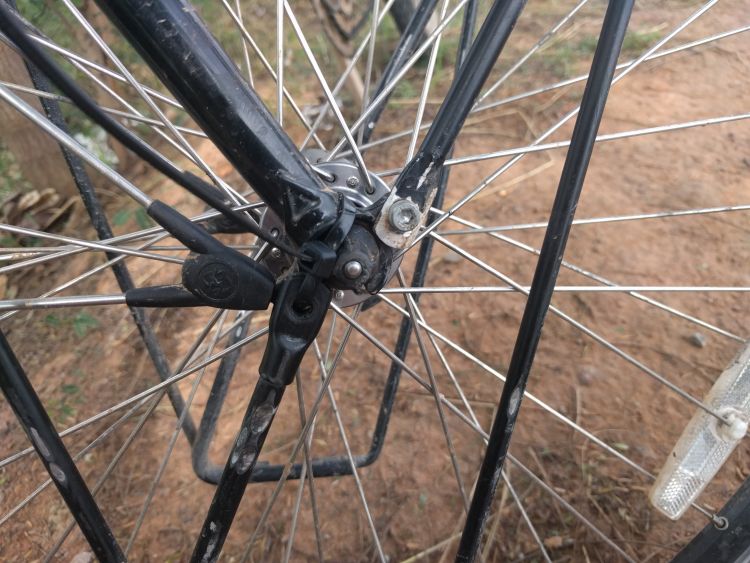 What were some of the highlights of the trip?
Without a doubt, the highlight of every day on the bike were the countless children who said hello. Cycling offers so many opportunities for interaction with local people and especially those that don't necessarily see too many overseas tourists pass through. It always surprises me when travelling through developing countries that, despite many local families having very little, living in pretty destitute conditions, and with few options in life, they seem so happy and content. Some children would try and catch up with me on their bicycles, others would run out from the bushes to surprise me with a big grin and an adorable "hello" before going about their daily routine. Wonderful.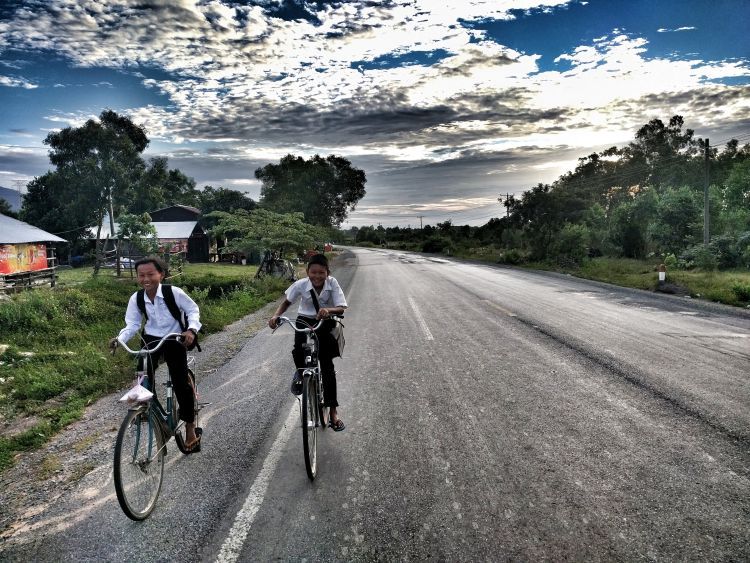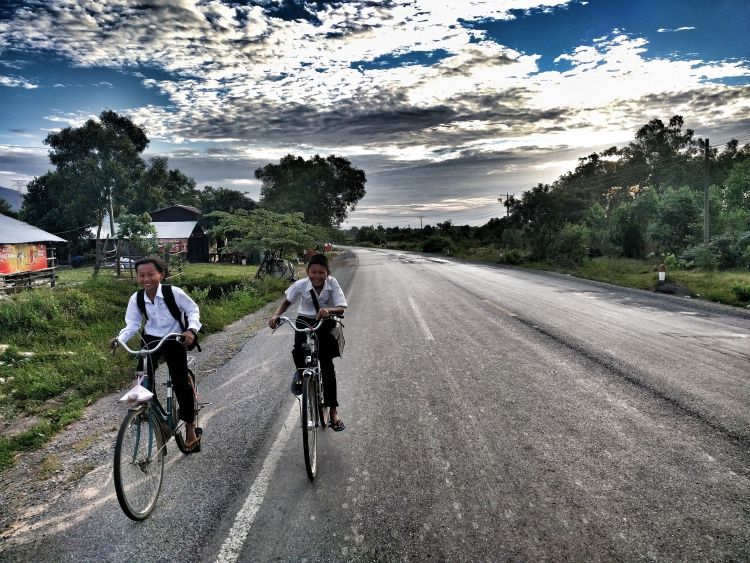 Was it difficult to find places to eat the right amount of calories needed whilst cycle touring?
Vietnamese and Cambodian food is fantastic! Rice is a staple but French bread is also found in most towns (a result of the French legacy). On cycling days, I'd usually have an iced coffee and egg roll followed by a few rice dishes spread throughout the day. When I've been on more remote tours, finding places to fuel up on long days can be a real concern, but on this trip there were stalls and restaurants every few miles. The standards of food and hygiene varied at times, but I never went hungry and didn't get sick once, which is always a good sign! Three of my highlights were some sticky doughnuts: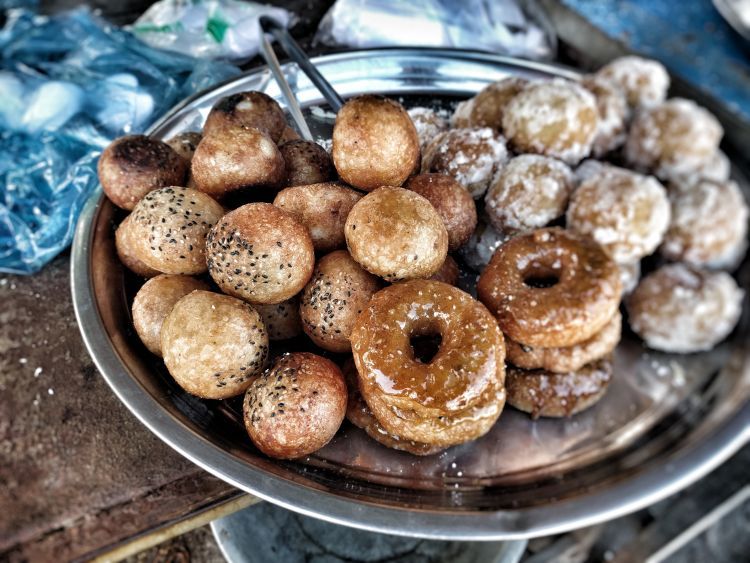 Seafood cooked on a barbeque next to the sea: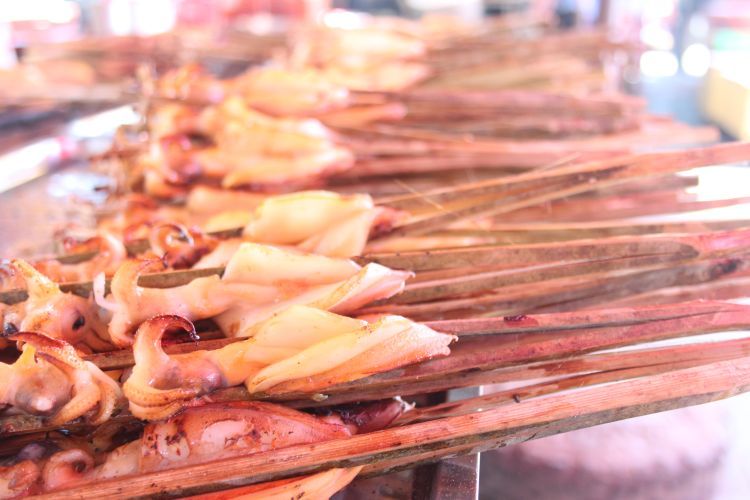 And some coconut rice that had been cooked in bamboo: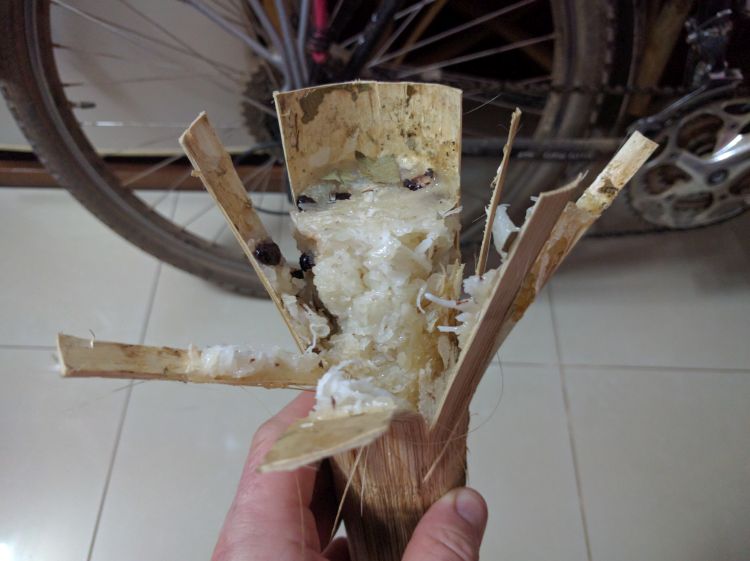 The rice tasted almost identical to the rice cakes eaten by the Sky Team – I couldn't help but think this is where they got the idea!
Where did you sleep?
Planning a self-supported tour is all about logistics and what's actually physically possible to cover in one day. I almost always carry a tent on extended tours, this gives me a backup just in case I can't pedal any further. On this trip however, it was pretty easy to pick routes between major towns, and hotels were well marketed online which meant I was able to book ahead and not leave it up to chance to get a place to stay. The homestays I stayed in were definitely an accommodation highlight, staying with local families in rural spots – this one was right on the Mekong and run by a lovely man who cooked incredible food: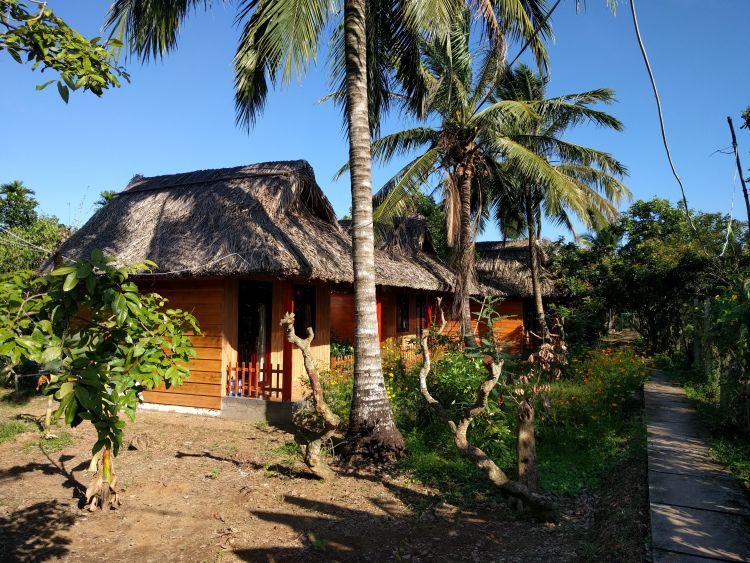 The biggest issue was storing my bike. Most hotels were fine with me taking my bike into my room, which is great, except when it's on the fifth floor. On my first night in Ho Chi Minh City I chose a hotel with a lift and used it to transfer my bike up the stairs. Early the next morning I woke to find there had been a power cut so I was forced to carry all of my luggage and bicycle down four flights of stairs. Not the best of starts and I had definitely not acclimatised to the heat by this point, so was dripping before even getting on the bike!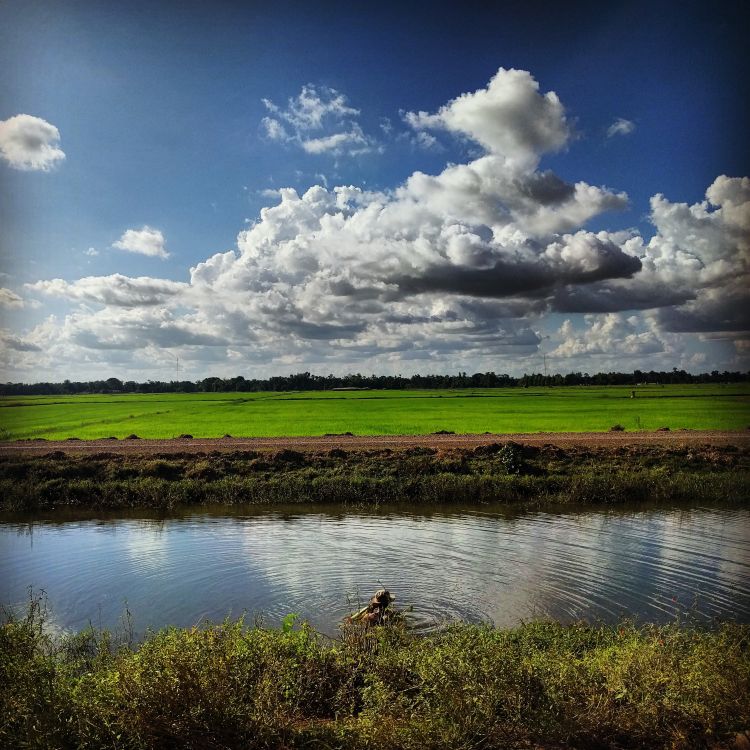 What were the biggest challenges you faced?
For someone who prefers cold places and with fair skin, the heat was a real challenge. For this reason, I set off before sunrise each day and reapplied suncream at least twice a day. It hovered around 32°C throughout the day which meant a lot of sweating and I was coolest whilst actually moving on the bike with the wind in my face. Some days I'd drink eight litres of water a day so I was also careful to replace salts and electrolytes to avoid over-hydration.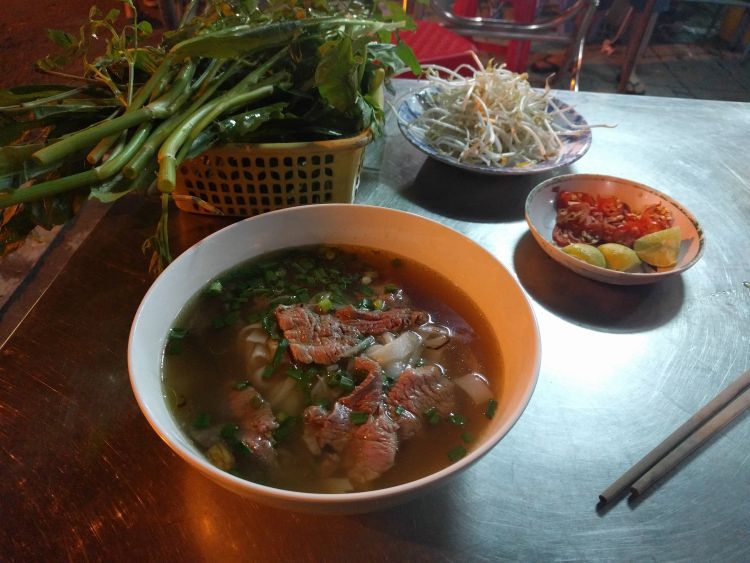 How did you transport your bike to/from Vietnam?
I picked up a bike box from my local bike shop, took my bike apart, and packed it with some insulation and padding. I flew with China Southern Airlines which allows you to take a bicycle (provided it's properly packed) as a main piece of luggage. I actually had an allowance of two bags, so one was my bike, the other was my panniers that I strapped together as one at the airport. Travelling through London on the tube is always an experience with so much luggage!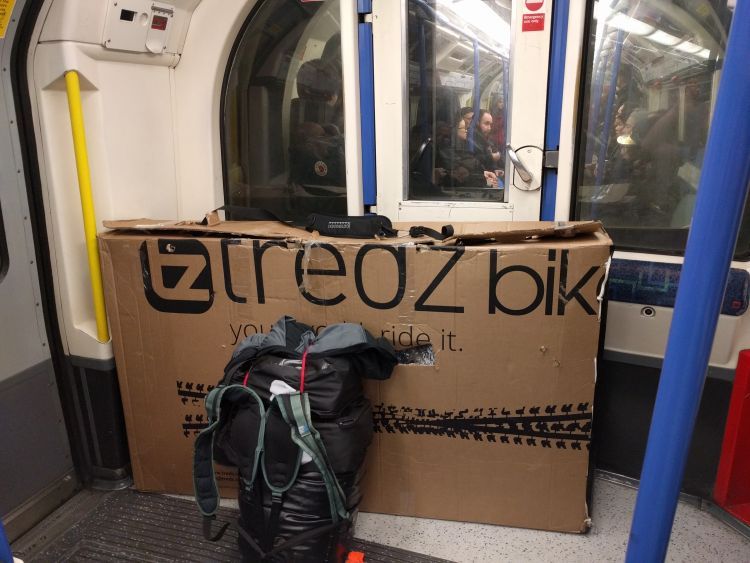 At the end of the trip, I did exactly the same and the very helpful staff at Saigon Cycles in Ho Chi Min City actually packed my bike for me for around $9. Money well spent!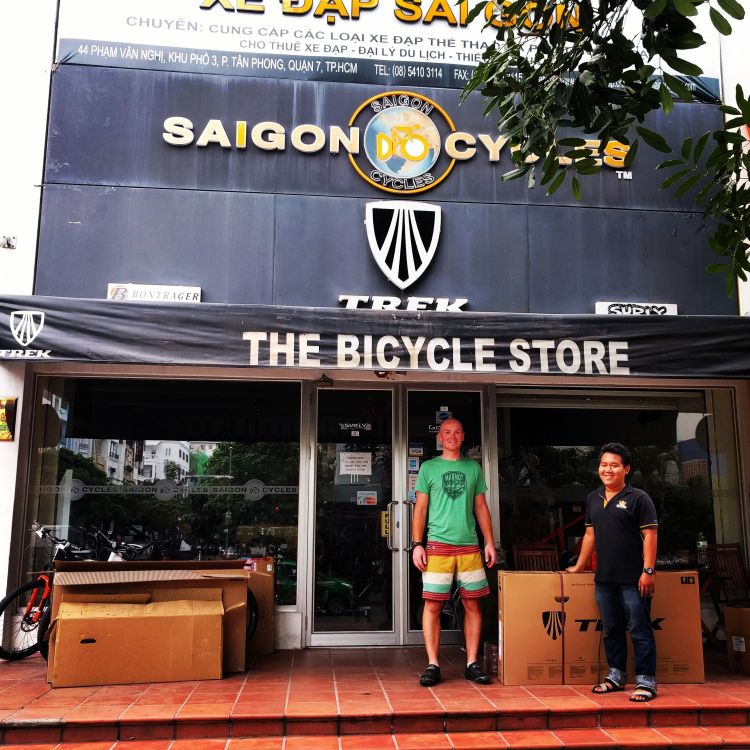 CONCLUSION
Part of the reason Tom travelled to Vietnam and Cambodia was not just to have fun on his bike! In December 2017, More Adventure will be running a 12-day trip from Ho Chi Minh City to the temples of Angkor Wat in Cambodia. If you or someone you know could be interested in finding out more about Cycling in Vietnam and Cambodia and joining us in 2017, please email
info@moreadventure.co.uk
 with the subject "Vietnam" and we'll be in touch shortly.