Published:
November 20th 2013
Bikepacking – as someone used to carrying camping and cooking equipment on extended tours, the prospect of packing less and staying in buildings (not a tent!) was highly appealing. I realised that in order for me to benefit from this touring evolution, I needed to start at the beginning, do away with my four panniers, and explore new methods of carrying luggage on my bike.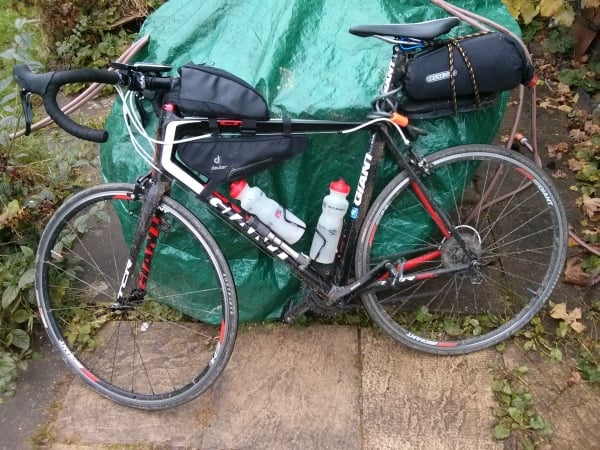 Choosing to tour on my racing bike had definite benefits, but the most important one – it would be lighter. The downside of course, it is certainly not as strong as my touring bike, so I would need to pack extremely light. One way of packing extremely light of course, is to limit your baggage.
In comes the Ortlieb Classic Large Saddle Bag. With 2.7 litres of space, waterproof roll-down closure and handy clip-on mounting system, this was looking like the best option already. I own other Ortlieb drybags, panniers and mapcases, and have always been more than happy with their build quality and have come to expect a certain standard of product. My first impressions did not disappoint and I felt confident in the bag from the outset. I was however slightly disappointed with how small the bag seemed. Trying to see a positive out of a negative, I only hoped this would force me to carry less!
So to test it out…where better than one of the wettest and wildest parts of the UK – West Wales! My cycling partner Danny had also purchased on of the bags and we'd planned a route that would cross the south of Wales, skirting both the Brecon Beacons and Pembrokeshire National Park.
The weather forecast….shocking. Ordinarily, this would be a bad thing, but I needed to really test the bag out, in all weathers. I'm somewhat of a cynic when it comes to outdoor gear reviews, especially when someone is advising me on a waterproof jacket to buy as result of one day's (or even just a couple of hours) outing in slightly inclement weather. So good…it was set to be miserable.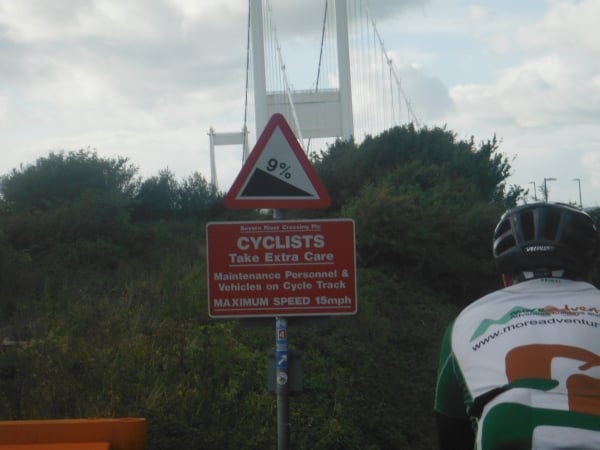 In addition to the saddle bag, i also had a Deuter triangular frame bag and small dry bag which would be attached around my stem. Inside, I'd whittled my luggage down to the following choice items: fleece, base layer (for riding), t-shirt, collared shirt, trousers, waterproof jacket, windproof gilet, buff, soap, toothbrush & toothpaste, USB charger & 2 leads, 3 pairs of socks, 2 pairs of boxers, a sunstick, clippers, a multitool, inner tube, small bottle of bike oil, zip ties, gear cable, tyre levers, gaffa tape, and front & back lights. In addition to this, I would be wearing a pair of cycling shorts, a cycling jersey, gloves, cycling shoes, helmet and sunglasses. In my saddle bag I managed to fit my fleece, tshirt, long sleeved base layer, hair clippers, underwear and trousers. The rest was carried elsewhere but I was safe in the knowledge that these items would stay dry for the end of the day!
So the test. We cycled for three days in some of the worst rain I have seen. Each day we covered around 80 miles through the heart of Wales from Newport to Fishguard. We stayed in a youth hostel and a small guesthouse en route. Upon arriving at both establishments, we were greeted with that look of, "What the hell are you doing?" We struggled to answer their pity.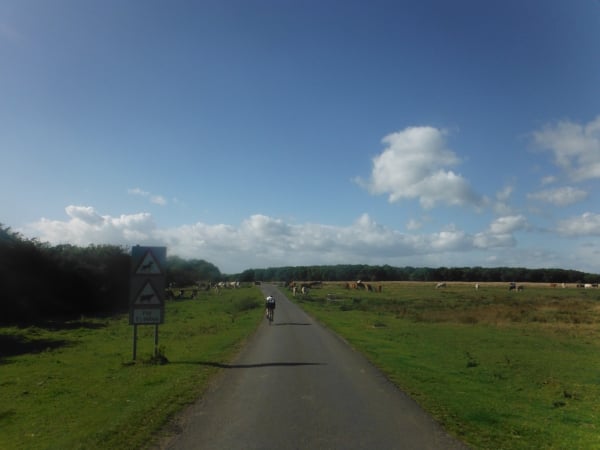 But I gave the saddle bag a run for its' money. It sort of doubled up as a rear mudguard too, protecting my behind from the lashings of water and grit flung up from the road. Astounded, every time I opened it I found everything in there to be totally dry.
So my only criticism of the saddle bag…well I have two. Firstly, I wish it was just a tiny wee bit bigger. I think it's perfect for putting clothes in for a short bikepacking trip, but even after trimming my clothing right down, I could have done with an extra litre, just to make packing it that bit easier, and having that extra bit of fabric to 'roll-down' when closing it. The second criticism is the attachments. The Velcro strap that attaches to your seat post is too weak and I would find myself having to refasten it a few times each day. I actually wrapped a bungee around the saddle bag and attached it to my seat as an extra security measure. This meant I could also strap on my flip-flops to the outside.
I definitely recommend the Ortlieb Saddle Bag as it has the design and build quality I've come to expect from the German outdoor manufacturer. As an overnight bikepacking bag (in addition to a couple of other cleverly placed bags), it is excellent, and I was confident in it for keeping my kit dry in awful weather.