Published:
April 25th 2020
By Tom Shooter
We're often asked about our process for designing cycling routes and I've written previous posts about this very subject. More specifically, people are interested in the software or programs I use to create our cycling adventures. Having tried most of the online route plotting programs, I find Strava provides the best platform for plotting and saving routes.
The reasons to use Strava are plentiful. It uses other people's information to pick the most popular route, it gives real-time elevation details as you scroll through the route, the routes are easily downloaded as GPX files to use on navigation devices, it's free…I could go on.
However a few months ago I was introduced to the powerhouse that is Fatmap. Originally designed for use by skiers, this incredible software allows you to explore an area and view cycling routes in 3D.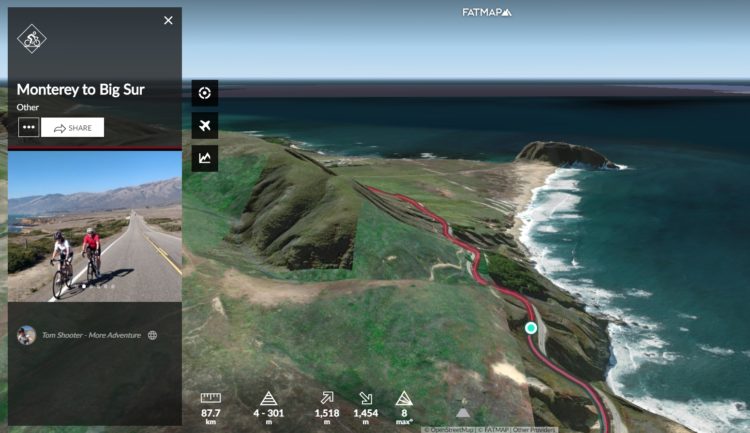 Your Fatmap account links to your Strava account so you can view a ride you've just completed from the sky, and even fly through the route. Once your accounts are linked you'll receive an email after you've uploaded your Strava ride so you can view it in Fatmap.
If you're recording a route on your phone (and have got geolocation data on), the route will also show you photos you took at specific points of the route. Check out this ride from our Cycle California trip, from Monterey to the Big Sur (click on the small plane symbol for the fly through):
There's also a Fatmap app that allows you to see in real time where you are in 3D. If you're wondering what the mountains or features in the distance are, the app can help!
As a premium member, I can also use different layers within the software. One particularly excellent layer is the Ordnance Survey map which makes map reading (and understanding contours for that matter!) a doddle.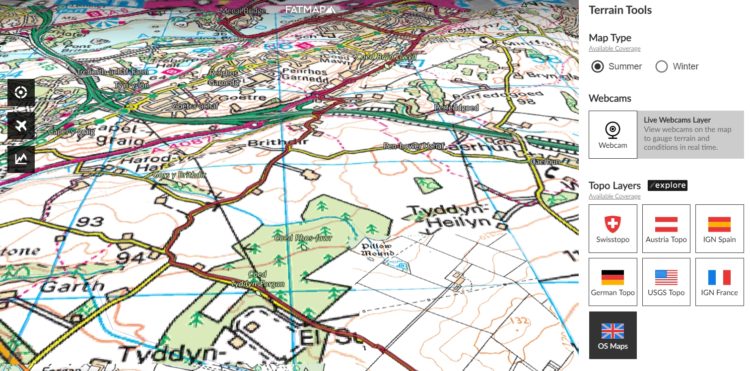 Other features include:
Community content – view and use routes that other people have uploaded. Each route is a certain colour, depicting the activity of the route.

Download routes as GPX files

Embed a fly-through on your website

Change the layers to reflect slope gradient

Add a snow layer (for skiing or cycling's sadists)
It's rare that I get excited about a new fangled technology because ultimately they can simply create a time-suck when really you should be out riding your bike! Often they promise to enhance your outdoors experience but instead detract from them. However if you enjoy planning adventures, Fatmap is an extremely useful tool and also a great deal of fun. 
Just ensure it doesn't make you more of an armchair adventurer than a real adventurer!